Effective Patient Physician Interactions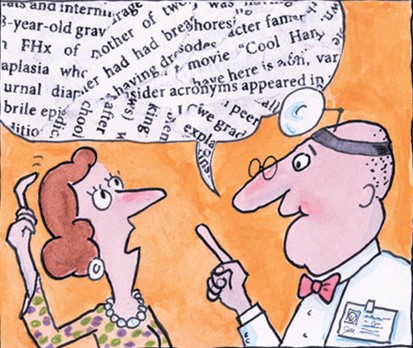 Health Literacy
Creating Documents for Patients
Online Communication Tools
Published Resources
Creating Documents for Patients
Health Literacy is defined in the Institute of Medicine report, Health Literacy: A Prescription to End Confusion, as "the degree to which individuals have the capacity to obtain, process, and understand basic health information and services needed to make appropriate health decisions."
According to the Institute of Medicine, ninety million adult Americans have limited health literacy.
Health literacy incorporates a range of abilities: reading, comprehending, and analyzing information; decoding instructions, symbols, charts, and diagrams; weighing risks and benefits; and, ultimately, making decisions and taking action.
20 million Americans speak poor English; 10 million speak none [Source: 2000 Census].
More than 300 languages are spoken in the United States.
Ask Me 3 This program run by the National Patient Safety Foundation can help patients be an active member of their healthcare team by asking 3 important questions.
Clear Communication focuses on providing information that is accessible to specific audiences based on cultural competence and incorporating plain language approaches and new technologies.
Healthy People 2020: Communicating Health: Priorities and Strategies for Progress Overview
Health Resources and Services Administration A free, online, go-at-your-own-pace training to help health care professionals and students improve patient-provider communication.
The National Action Plan to Improve Health Literacy is aimed at making health information and services easier to understand and use. Action plan summary
Health Literacy from A to Z
ISBN: 0763745502
Publication Date: 2004-08-31
Talking with Patients
ISBN: 0192621858
Publication Date: 1992-08-06
Communication Skills for Medicine
ISBN: 9780702030581
Publication Date: 2009-05-08
Communicating with Your Patients
ISBN: 0899709737
Publication Date: 1999-08-01